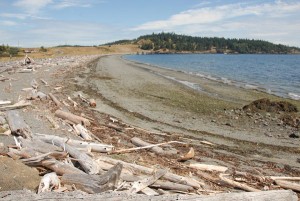 Jackson Beach is an ideal place for a picnic or beach combing just 2 miles from the ferry landing. There are amenities such as beach volleyball courts, restrooms, plenty of parking spaces, a free boat launch, and 3 picnic sites complete with fire rings and BBQ grills. Normal park hours are dawn to dusk, however if you wish to have an after-hour event at the beach contact the Port office at 378-2688 to make arrangements.
Overnight camping is not allowed.
For our four-legged friends there are complimentary Muttmitts available.
Water-oriented businesses operating from Jackson Beach:
Argyle Lagoon Biological Preserve, San Juan Island
This is a 14 acre property that includes all of the Argyle Lagoon tidelands (12.3 acres classified as "oysterlands" by the State) including part of a tidal creek, and a 1.7 acre upland parcel that borders on Argyle Lagoon as well as onPear Point Road.
The University of Washington leased Argyle Lagoon from 1965, purchased the property in 1984, and now manages Argyle Lagoon as one of the five Washington State Department of Fish and Wildlife (WADFW) fisheries preserves established in 1990, known collectively as the "San Juan Islands Biological Preserves."
Argyle Lagoon is easily accessed by car from Jackson Beach Road off  Pear Point Road. The adjacent beaches (North Bay beach off Griffin Bay – lower right in photo below, and Jackson Beach – upper right in photo below) are owned by the Port of Friday Harbor and see quite a bit of recreational use.
The Argyle Lagoon Biological Preserve is closed to the take of fish and shellfish except for research. Argyle Creek and Argyle Lagoon are frequently visited by UW Friday Harbor Labs biology classes and are usually the site of several ongoing research projects. Please respect the areas that are designated off-limits.