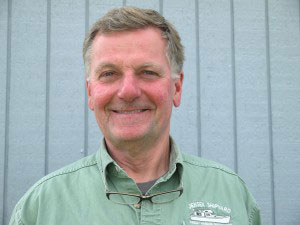 Mike Ahrenius is a northwest native. Born in Seattle, he was raised in Woodinville, and moved to San Juan Island in 1988 with his family. His wife has old island roots and Mike adapted perfectly to the island life style. He and his daughter manage the family business, Albert Jensen & Sons Shipyard, in Friday Harbor.
Mike was elected in 2001 and is currently serving his third term as Port Commissioner for District 1. Mike serves as Past President of the Washington Public Ports Association, a state-wide organization of ports. Although he owns a couple of boats and old British sports cars, his first love is anything with a motor and two wheels. It's not unusual to see him show up on one of his motorcycles for a port meeting. After all, parking is always an issue.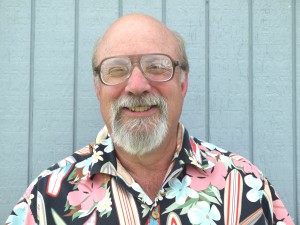 Greg Hertel is our longest-serving port commissioner, elected from District 3 in 1991. During his tenure the Port constructed the San Juan Center of Skagit Valley College, purchased and reconstructed Spring Street Landing, made land available for development of the Animal Shelter and the San Juan Island Fire District campus, as well as many other projects.
Greg Hertel is a retired high school teacher and track coach and a former commercial fisherman. He is a licensed Coast Guard captain. Greg works as an instructor at Skagit Valley College, and teaches naturalist courses at theWhale Museum. Greg lives with his wife Lunnette, several cats, and numerous motorcycles in a house he built in 1987.
Barbara Marrett has been engaged in her community since arriving in 1978. From business owner to author and graphic designer, and ocean sailing instructor, she's led a life of adventure and accomplishment. Currently Barbara is the Communications and Stewardship Manager for the San Juan Islands Visitors Bureau. She primarily works with media to promote travel to the islands and also crafts stewardship-minded messaging about the islands.
While calling Friday Harbor homeport, Barbara has sailed the world's oceans as professional relief crew and instructor for Orange Coast College School of Sailing and Seamanship and as a Contributing Editor to Cruising World magazine.  Co-author of the sailing adventure book, Mahina Tiare, Pacific Passages, she also enjoys lecturing on topics related to sailing and Polynesian navigation.
A commissioner from district 2 since 2005, Barbara sees the Port as a catalyst for the responsible evolution of our waterfront and and airport. She enjoys working with the public on issues related to island culture, aviation, history and environmental stewardship. A former long-time member of the Marine Resources Committee, she currently serves by appointment of the U.S. Secretary of the Interior on the San Juan Islands National Monument Advisory Committee.