Download a PDF version here
The Port of Friday Harbor will be conducting work in and around the airport to remove trees designated by survey as obstructions to safe aircraft operation. We have prepared the following information to share why this work is necessary.
Why Obstruction Removal?
This is not unusual, airports around the country manage similar programs to protect the safety of the flying public. Friday Harbor Airport sees around 50,000 takeoffs and landings a year, including 12,000 passengers on scheduled commercial flights, 660 FedEx flights, and 400 Medevac flights.
• FAA regulations and WA State law require airports to identify and remove obstructions to navigable airspace on and around the airport.
• Removal of obstructions helps to ensure safety of aircraft operating at the airport, as well as for the surrounding community.
• Required for Airport Master Plan Update (AMPU) – A comprehensive study that describes development plans to meet future aviation demands.
Does the FAA require the trees to be removed?
The trees can either be removed or topped.
Why are you cutting down the trees instead of topping?
• Topping affects the health of the tree which can develop into a hazard for people and structures on the ground.
• The FAA will only fund one operation for mitigation of an obstruction. If the trees are topped and any new growth creates an obstruction, we will not receive additional funding for mitigation.
Why are we cutting trees on the sides of the runway?
The airspace to protect extends to either side of the runway, to account for visual and weather conditions where aircraft may stray from the axis of the runway.
How is this project funded?
The majority of funding (90%) comes from the FAA, and the Port of Friday Harbor is providing the remainder.
Will we have to do this again?
This is phase 1 of a 3 phase process. Steps are being taken in replanting the areas affected by this project to prevent new trees from growing and becoming obstructions. Future obstructions throughout the area both natural and manmade have to be monitored and mitigated as required by the FAA as they develop or as regulations change.
How can I get more information on the project?
If you have any questions, comments, or concerns please contact us via:
• Email – contactus@portfridayharbor.org
• Phone – 360-378-2688
• Mail – Port of Friday Harbor Airport, PO Box 889, Friday Harbor WA 98250
Update: 11/28/2017
Is there a diagram of where the tree cutting will occur?
The areas marked out in these two images are the extent of the wholesale cutting/replanting at the South end of the airfield. Silt and erosion control measures will be installed before work begins to protect critical areas and control runoff.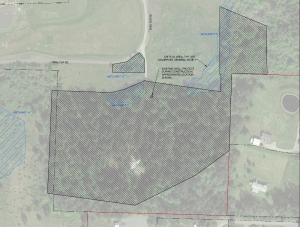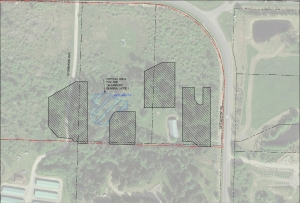 The individual trees marked out in this image are the extent of the selective cutting that will occur at the North end of the airfield.