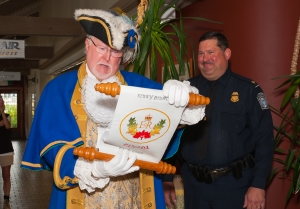 Sidney Town Crier, Kenney Podmore, announces the opening of scheduled CBP clearance services at the Friday Harbor Airport.
As of June 1st, direct flight clearance between Canada and the U.S. will be possible on a scheduled basis. There will be a CBP agent stationed at the airport daily for an hour and a half in the morning and an hour and a half in the afternoon to provide clearance services to both commercial and general aviation customers. This new service was made possible by the combined efforts of San Juan County, Town of Friday Harbor, the Port of Friday Harbor and CBP.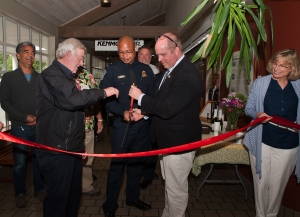 Official ribbon cutting of the new CBP office within the Roy Franklin Terminal. L to R: Farhad Ghatan, Town Council, Henry Emson, Northstar Air Tours, Kenneth Williams, CBP Blaine Area Port Director, Duncan Wilson, Town Administrator, Rick Hughes, County Council and Barbara Marrett, Port Commissioner.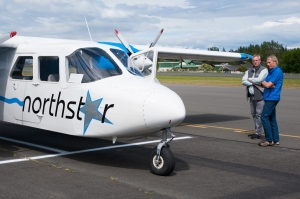 Henry Emson, owner of NorthStar Air Tours, hopes to begin offering daily flights between Sidney, British Columbia, and Friday Harbor sometime this summer. Stay tuned! Air travel between Victoria airport and Friday Harbor airport will be the shortest international scheduled flight service in North America.